Social Marketing – And That Includes Music And Dance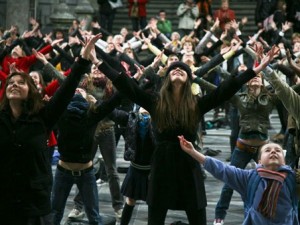 We are living in an age where we are all bombarded by various media, including TV, radio, Internet, Twitter, Facebook, Youtube, MySpace and so much more, and somehow, we've lost touch with the good old live advertising media, such as those selling snake oil or those door-to-door salesperson.
Ask anybody right now where do they get to know about any new products, probably they'll tell you that they got to know it from the above-mentioned. In view of these, many companies are embracing these medias and evolve to their new marketing strategy. And that gives rise to social marketing, social media, social networking, viral marketing, viral advertising and a whole lot more mouthful; However, these are all just some terminology that serves only one main purpose – to capture more potential customers.
I'm not here to elaborate on these terminology, nor am I here to guide you with these new marketing strategy. I'm here, to show you what others have done so that you can enjoy their performance and probably come up a new marketing idea for your products, or if not, just enjoy:
This video was organized by VTM, Vlaamse Televisie Mattschappij, the largest television station in Dutch speaking Flanders. This performance was to announce their newest reality television program "Op zoek naar Maria", in which they want to find an actress to play the leading role in the musical version of The Sound of Music. It was performed at Antwerp Central Station on March 23rd, 2009.
Other than those commuters who are fortunate to be there, this video was viewed over 30,000 times on Youtube. And that's what I call a success!
In marketing, there's no need for anybody to keep coming up with new ideas and new strategy, in fact, the common theory is, if it's good, copy it, and make it better. And that's what VTM has done.
This performance idea was actually being copied from T-Mobile, who has done this on January 15th, 2009 at Liverpool Street Station for their Life's for Sharing message.
Enough said, let's watch
Ok, you want more, how about "Airport Musical" from lastminute.com to promote theatre tickets:
Actually, before all these, there's a musical that was performed by a group of theatre actors at the most central – and most crowded – trainstation in Utrecht, The Netherlands. It is called Getronics Musical, which was done on October 14th, 2008.
For this above video, it also proves another point – Music is an international language !
All the above-mentioned videos are performed by professional actors and actresses, and if you want to take a hard look at viral marketing in its most raw form, you might want to re-visit the idea of flashmob. A very recent successful one is organised in New York on January 10th, 2009. Total participants were estimated to be around 2,500 people.
The theme of this flashmob is called No Pants! Subway Ride, and it is being organized for the 8th time!! Enjoy video:
Want more, how about the following one entitled Food Court Musical:
Related posts: