Right Brain vs Left Brain
Tell me what you see about the animated dancer below; Is she turning clockwise or anti-clockwise?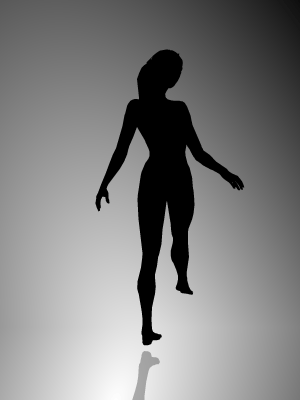 While I was writing for another blog, somehow I just stumbled upon this post from The Daily Telegraph and recall a TV advertisement that has something similar to it. I remembered that I've tried to replay that advertisement many times before but just don't understand what it means.
What anti-clockwise and clockwise? I can only see it goes anti-clockwise all the while and nothing else. The problem with that advertisement was that the dancer is actually a real human being so there are a lot of additional movements that keeps distracting me. So, after a few replays, I give up and never bother to look at it anymore.

This time, it really catches my attention because when I look at the comments from others, it seems that everybody can view it differently;
some view it turning clockwise,
some view it turning anti-clockwise,
some even able to see it changes direction without knowing how, and worst,
some can even change the direction of the dancer at will JUST by imagining different things !!!
This is really crazy !!
I looked at it hard and still, I can only see it goes anti-clockwise and that's it, nothing else!! Even when I squeaked my eyes, cross my eyes, semi-open my eyelids, glancing from my left, glancing from my right, even turning my laptop upside down, it is still turning anti-clockwise !!!
At this moment, it happens that my 3 year old son Dylan was coming to me asking for me to carry him and so I did, and I asked him what did he see and how he sees it.
He told me he saw a girl dancing and show me the direction she was dancing with. Eeee…. he motioned a clockwise movement and it starts to creep me out. Why is he viewing it differently?
I got Dylan's mum, Clara, to come over and ask her what she sees, and she said that she can see her dancing anti-clockwise (ok, good), and then she said "no wait, it changes direction now, she is dancing clockwise now…..wait wait, she's turning anti-clockwise again…." and she keeps telling me how and when the dancer changes direction??!! "You really can't see it meh…" that's what she said, and yes, for the thousandth time, I only see it goes anti-clockwise!!
I decided to take matters into my own hands and forget about what others see. I downloaded the file and fire up my Adobe ImageReady. With this software, I can see the individual frames of a .gif file and in this file, there are a total of 34 frames with each frame running for 0.03 second.
I begin to look at each frame very carefully, and as I do so, I manually animate a few frames at a time and Eureka!!! I see the different directions as what others say. Yes, I can see it turning clockwise also and anti-clockwise again and I can even change the direction at will !!! HAHAHA … I did it…
I look at the article again and it explains the anomaly of why some view it turning clockwise and some view it turning anti-clockwise. The reason is actually very simple;
If you see it turning clockwise, then you are actually using more of your right brain and if see it turning anti-clockwise, you are using more of your left brain. I dived in further and the functions of the brain is as such:-
Function Of Right Brain:
controls the artistic abilities of a person
controls the creativity and also the spontaneous of a person
uses feeling
more towards a "bigger picture" oriented type
good with symbols and images
good imagination and more towards fantasy based
Functions of Left Brain:
controls  the logical abilities of a person
very precise and analytical and detail oriented
great with maths, spelling and computer programming
believes only in facts and science
a go-getter rather than a dreamer
HA, so that's why I only see it turning anti-clockwise. It's because I have a half-dead right brain!! I do admit I have totally zero artistic flaire and I have great analytical and logical skills. My maths and science scores during my school days were always very high but my art and literature were totally hopeless. And I'm pretty good at computer programming too. Now it seems to explain everything.
I begin to analyse myself (can't help it) and starts to laugh.
Who will actually open up the file above just to look at how it's done and explain the anomaly. Only a semi-dead right brain person will do it, that's who !! So, the verdict is out; I'm a left brain person and my right brain is half-dead (might even be fully dead, though I really hope not, and logically, it can't be or else I can't even see any shapes and colours already) – see, I'm still analysing facts.
Anyway, remember I mention above about the 4 types of people seeing it differently?
The first type who view it turning clockwise is a right-brainer (artistic and great dreamer)
The second type who view it turning anti-clockwise is a left-brainer (logical and analytical)
The third type is those who uses both side of their brain quite equally and therefore they can see it turning one direction and changing to another in just a moment, however, they need to train their brain so that they can see it turning into different directions at will.
The fourth type of person can be anybody (except me) by just doing this exercise. While looking at the animated image, think of a mathematical sum and probably you will see it turning anti-clockwise (left brain). On the other hand, while looking at the image, think of something like shapes and colours and you will see it turning clockwise (right brain). Try it, you might succeed.
Last but not least, after analysing the individual frames for the image, remember I say that I can change the direction at will? Very simple. While looking at the image, you'll notice that one leg seems to be rooted on the air while the other leg is raised higher. Just look at the raised leg.
If you view the raised leg as the RIGHT leg, then the image will appear to turn clockwise and if you visualize the raised leg to be the LEFT leg, then the image will appear to turn anti-clockwise. Simple as that!! It is actually an optical illusion and playing with our eyes and visions.
However, to be very honest with you, I can only do so when I manually animate them frame by frame, and if for me to change the direction by looking at the above image, I have to really imagine very hard for the raised leg to be either left or right before I can change the direction.
Seems that I am really a left brainer

Why don't you leave a comment below and tell us which direction do you see.
Recommended Products:-
Other educational videos – lots of other goodies for your kids and babies. It's never too young to start education.
No related posts.