Total Revamp Of ShopBug.com
Hello to you and thank you for visiting ShopBug.com.
My name is Delson Moo and I am the founder of Shopbug Pte Ltd, a.k.a ShopBug.com. Thank you again for visiting us here and thank you for your support for all these years, and of course, thank you for helping me buy milk powder for my son Dylan Moo, and he say thanks too

For those who have  never heard of us or shop with us, ShopBug.com is a Singapore registered company and our key business is to provide online shopping experience for our Singapore customers as well as all other international customers. So far, we've shipped products to our neighbouring countries such as Malaysia, Thailand, Vietnam, China, Hong Kong, Taiwan and all the way to USA, Australia, New Zealand, Greece, Turkey, Africa, Germany, France, United Kingdom and lots more.

ShopBug.com was established in the year 2003 and during that time, we carry a very wide range of products ranging from baby products, electrical appliances, household products, game cards, watches, clothing and lots more, in fact, so much more that we seems to be overwhelmed with it. Over these years, we've fine-tune our business operations and discovered our niche and our strengths in this volatile and competitive market. Today, ShopBug.com is considered a prominent player in the ecommerce market in Singapore, especially in the niche of baby and children products and also fashion apparels.
Over these years, we have never stop growing and we have never stop learning, and today, ShopBug.com is undergoing another phrase of change; A total revamp of our static website to a more dynamic and informative blog site.
A walk down the memory lane of our old website and you will see our very nicely done static website that looks like this:-
This website was very beautiful during the time of implementation and was considered to be aesthetically appealing to the eyes, at least to mine. However, the problem with it was that it is just a static website and therefore we are not able to inform our customers or visitors what sort of latest promotions or events that we have, and though we can still do it with our email newsletter, it has always been part of our shortcoming.
In the beginning of this year, I find that our static website could no longer keep pace with our growth and it has become more of a hindrance then a propaganda media for us. We received numerous complaints, critics and suggestions from various customers asking us for the opportunity to get more upfront and more direct contact with us. After listening to all, we opened a Facebook account for everybody to get more involve with us and a Twitter account for us to tweet with you.
Personally, I've been rejecting lots of friends invitation from Facebook for the past few years as first thing first, I do not like to join too many websites as remembering all the passwords from all these media is really a brain sucker, and secondly, there are just too many social media during that time, including MySpace, Friendster, Plaxo and whatsoever that I can hardly remember. However, as social media begins to get more mature, Facebook seems to prevail more and it is therefore my first choice to dip into when I decided to move ourselves to Web 2.0.
Our Facebook account is still alive and kicking and in fact, we are planning more events, lucky draws and sweepstakes at a later stage of time. Sign up as our fan so that we can inform you when we roll out more surprises.
After opening our Facebook account, another problem starts to surface.
Many of our customers do not have facebook account; even though at this very moment Facebook has a population of 300 million users, only less than 50 of them is our fan

We need a blog site, and we need it fast.
In less than a month, we totally revamped our old static website and debute  a new website as shown below: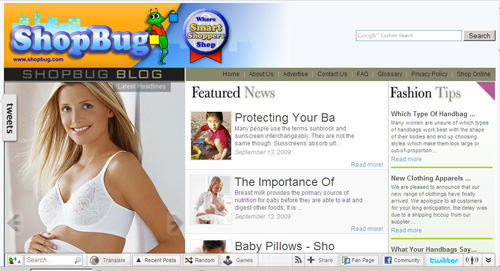 This website is quite pretty and very informative as in one glance, you can see all our latest articles and photos and also our latest updates and events. The problem with it is that new visitors will get information overload and the loading time gets affected also.
In just 2 months, I start to get sick of it and decided to redo the blog again.
After working with a few designs and numerous feedbacks from you, we realised  that a simple and plain website is what we needed. We understand that you do not need to see many images and many colours from our website, you just want to get the latest information from us and you just want to get the best offers from us. The rest, is just a bonus.
We heard you, and here's what we have for you now.
For our new website, you can still see our logo and our normal colour theme as our header, in fact, right now if you come to our webpage and later move to our online shop, you'll hardly notice any difference. This is a far cry from our previous blog site where almost everything was different and lots of visitors just got lost and wondered whether our company was acquired by others or what

Following our header is a row of menus, including the following:-
About – This page will briefly tell you what it is about us and what our mission is about
Blog -  This is where all the juices are and this is where you are reading now
Contact – A simple page with our contact information and includes a form for you to contact us directly. A map is included too, just a simple touch for you to reach us easier.
FAQ – This page will list our Frequently Asked Questions so that you can have a more pleasant shopping experience with us. Previously we do have a FAQ page too but it is hidden in some corner and customers have been wasting lots of their precious time searching for it before contacting us. Now, we put it within your easy reach. Thank you for your feedback.
Advertise – This is for anybody interested into advertising in our website. We will keep advertising to the minimum and we will only select advertisers that sells products that are favourable to our customers. Yes, we do accept advertisers that are selling the same product as us too, though I really don't know why you would do that
Glossary – An alphabetical breakdown of all our posts and articles so that  you can search on anything in our website with ease. Now, this should make life easier for you as you can easily search for any articles which interest you.
Sitemap – Our blog site getting too many articles already and don't know where to look at? Just look into our sitemap for a topdown view for our whole website structure and you'll never get lost here.
Previously in our old static website, all this information are also there but our customers are always having problem finding them. Right now, everything is clearly labeled and easily found.
The main home page is still a static page, with a big slide show telling you about:-
Who Are We?
What We Sell?
When We Open?
Where We Ship?
How To Shop?
Just a very simple touch to keep us closer to you.
So, this is it, what  you have asked for is what we are providing, and at the mean time, we are still researching and working on more features and more fun for you and your family.
Bookmark us, subscribe to our newsletter, and remember, visit us more often as we'll launch waves after waves of goodies for you in the near future.
By the way, do you have any more suggestions for us to improve upon?
Please feel free to put it in our comment below and we'll answer you in the soonest time. Happy surfing

No related posts.